The Online Fitness & Wellbeing Solution To Get You Into Incredible Mental & Physical Health, Gently and Progressively
A complete process of education, information, and instruction.
GSquared Experience introduces many different elements into your regime that will dramatically enhance the way you look, feel, move and think
---
Using cutting edge metabolic typing and primal pattern principles, this nutritional overhaul will enhance your nutrition knowledge and give you the education to make lasting changes
Expect to improve your body composition, alleviate stress, enhance gut health, supercharge immunity, reduce inflammation & enhance posture
---
Every week you'll gain access to new online content via our Thinkific platform so you can continue on your 12-week journey in a structured and efficient way, whilst also working around your schedule
---
6 workout programmes, 12 video trainings, supporting documents & worksheets, list of suppliers, 15 hours of content for £6 per week

The Transformation of Transformation Programmes that ensures you pick up long term changes to keep you on the right track long after the coaching has completed.
Fully online  ●  Free for GSquared Members  ●  New content every week
---
"Officially the most powerful online transformation programme available in 2021"

In this short video, you'll see snippets of the GSquared Experience and an introduction to Andy McGlynn, your coach and nutritionist throughout the programme.
Fully online  ●  Free for GSquared Members  ●  New content every week
---
---
---
Introduction, body fat testing & programme 1
Introduction: Review of the programme, tests for you to conduct at home (download the attachments), and your first programme that doesn't require equipment.  


Plus: Equipment you should consider purchasing in this first phase, to use at home.
Foam Roller
Swiss ball
Dyna-band
TRX / Rip60
Theragun
Calipers - We will perform the Jackson & Pollock skin fold test and include the equation sheet
Programme: (Week 1 & 2)
Gentle: Zone exercises for parasympathetic conditioning
Review of the questionnaires, metabolic typing and how to put it to use, calculating RMR. Typical deficiencies for you to consider.  
The questionnaires will be re-assessed in week 12 to determine your progress on the areas of improvement.
Gut health protocols and the 2nd programme
A crucial review of how to overcome IBS symptoms, improve gut health and digestion.
Programme: (Week 3 & 4)
Postural: Correct the typical distortions and imbalances (without an individualised postural assessment), building structural integrity and foundation while improving posture, gait, and initial aesthetic improvements.
Expanding your nutrition regime and habits
How herbs can heal specific issues, integrating herbal teas, food intolerances, meal timings, how to adjust your macro's easily.
Programme update: Stability
Programme update - 3rd programme
Programme: (Week 5 & 6)
Stability: To enhance stability both dynamically and statically to improve walking gait, running gait, ski-ing and associated sports/activities requiring dynamic balance, while also improving strength endurance.
The signs and solutions of being 'stressed and wired' and 'stressed and tired', how to assess for adrenal imbalance, the HPA Axis, and protocols to support the adrenals back to health.
Programme update: Movement Pattern Conditioning
Programme update - 4th programme
Programme: (Week 7 & 8)
Movement Pattern Conditioning: Using the enhanced dynamic balance and the improvements in posture, this programmes conditions the 7 movement patterns of the body to dramatically improve correct alignment, better movement, enhanced muscular recruitment and reduce aches and pains by eliminating cumulative injury cycles from the body.
Better methods of snacking
A range of innovative and different snacks that are healthy, new and interesting. Provided by The Remedy Kitchen - a brief review of each snack, how to make, where to source and the benefits.
Programme update: Strength Endurance
Programme update - 5th programme
Programme: (Week 9 & 10)
Strength Endurance: With equipment & Without equipment - Two programmes to choose from based on your equipment availability in which we now look to enhance strength endurance, caloric expenditure, tone and cellular adaptation of the entire body incorporating all the progressions so far in the previous 4 programmes.
Removing aches and pains from the body
Wherever you may have discomfort, we take a look at products, supplements and methods you can use to alleviate lower back pain, shoulder, ankle or knee pain, or indeed any inflammation within the body.  
Whether it's struggling to sleep, waking through the night or waking feeling tired, there are a number of solutions you can take to remedy the issues.
Programme update - 6th & final programme (optional)
Programme: (Week 11 & 12)
Toning, Shape and Cellular Adaptation: You may stay with the Strength Endurance programme for a further 3 weeks or if you now wish to progress in to a 3 Day Split in which we start to incorporate more volume in to each body part thereby looking at specific cellular adaptations. There will be a choice of body / no equipment and equipment based programmes to choose from.
Reassessment of your Health Questionnaire and where to go from here.
---
---
20 years of in-depth study of the human form in 12 powerful weeks

G2E - total transformation for all levels, and all ages, lead a super-charged life. Compatible with all devices.
Fully online  ●  Free for GSquared Members  ●  New content every week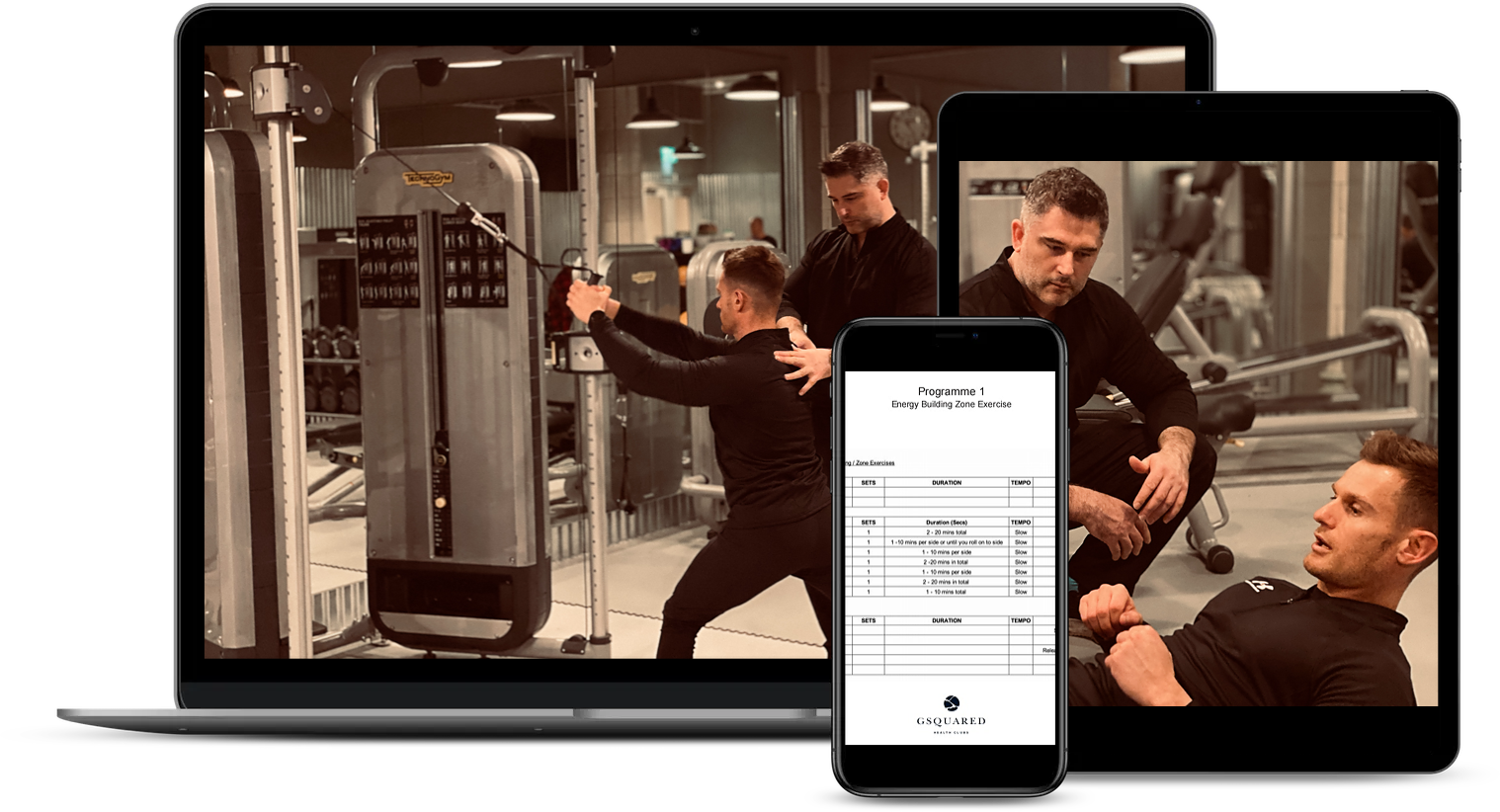 ---
---
6 progressive programmes
12 weeks of high quality and succinct video production
Walk through of every programme
Supporting documents, handouts and questionnaires
List of preferred suppliers for all recommendations
15 hours of content
Knowledge and information to serve a lifetime
---